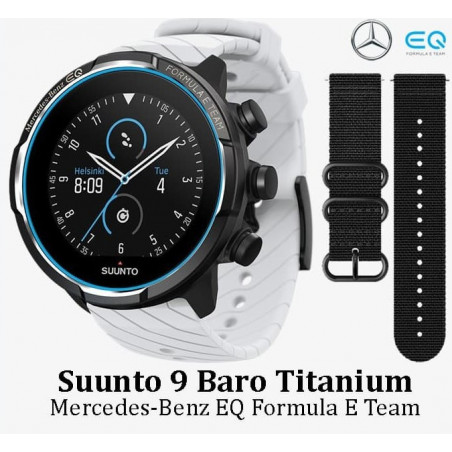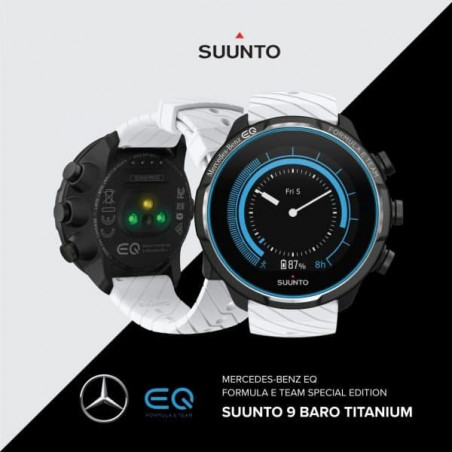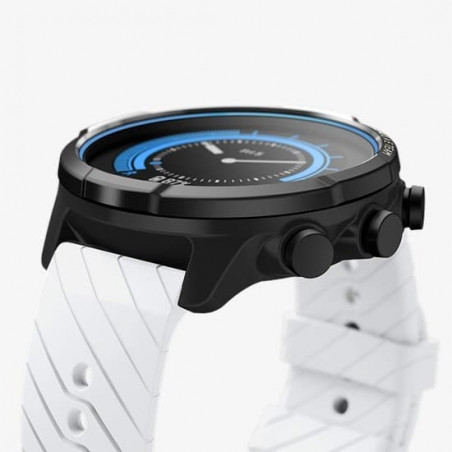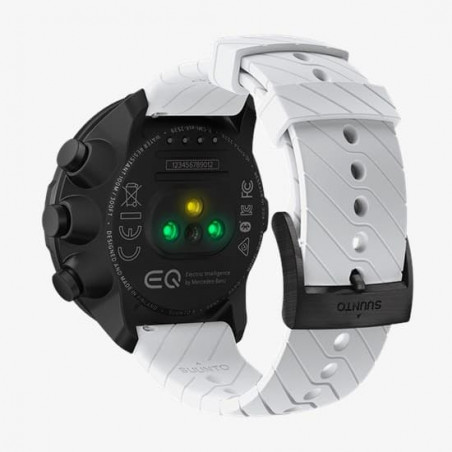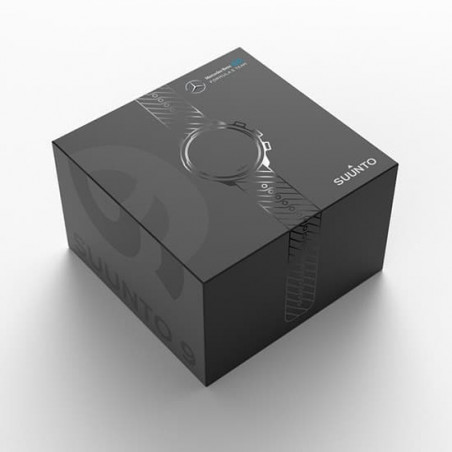 SUUNTO 9 Baro Titanium Mercedes Benz EQ Formula E Team Spesial Edition
Deskripsi SUUNTO 9 Baro Titanium Mercedes Benz EQ Formula E Team Spesial Edition
BUILT TO LAST – JUST LIKE YOU!
This watch was built with the Mercedes-Benz EQ Formula E Team in mind. Suunto 9 is a multisport GPS watch designed for athletes who demand the best from their sports watch. The Mercedes-Benz EQ Formula E Team drivers are athletes at the peak of physical fitness. The Team is working together with Suunto to optimize the human performance of the entire core race team.
The mechanics, engineers, racing drivers and management of the Mercedes-Benz EQ Formula E Team are all wearing the Suunto 9 Baro Titanium when going to races in a dozen of cities across 5 continents. The race days are intense and demanding for all involved. The team must function at their optimum performance with continually varying time zones and busy schedules, showing exceptional physical and mental fitness.
The selection of sport modes in Suunto 9 helps the team to adapt their workouts to any racing location. Tested to the extreme, with up to 120 hours of GPS tracking, the Suunto 9 Baro is built to outlast even the longest days of training. Intelligent battery life management system with smart reminders ensures the watch will last just as long as you need it to.
This special edition includes a Suunto 9 Baro with titanium bezel and both a textile strap and a silicone strap, all packaged in a stylish gift box.
FITUR UTAMA
- MODE BATERAI PINTAR
- NAVIGASI GPS
- FUSEDTRACK™
- LEBIH DARI 80 MODE OLAHRAGA
- ESTIMASI DETAK JANTUNG DI PERGELANGAN TANGAN
- TAHAN AIR 100 METER
- BAROMETER
- FUNGSI CUACA
SPESIFIKASI
- Berat : 76 g / 2.68 oz
- Material Ring/bezel : Titanium Grade 5
- Material Kaca : Kristal Safir
- Material Kasing : Serat gelas diperkuat poliamida
- Material Tali : Silikon and textile
- Isi dalam box : Jam Tangan, strap NATO tambahan, USB kabel, Buku Manual dan Garansi
- Lebar Tali : 24 mm
- Ketebalan Kasing : 17 mm
- Tinggi Kasing : 50 mm
- Garansi : 2 tahun
- Ukuran Pergelangan Tangan : 130-230 mm
- Layar Sentuh : Ya
- Ketahanan Air : 100 m